Earlier this year, Databricks made a massive investment in training by providing free self-paced courses to all of our customers. Databricks furthers this investment by partnering with Coursera to provide Massive Open Online Courses (MOOC) training to the larger data community. Together we launched a new three-course specialization, Data Science with Databricks for Data Analysts, targeted at data analysts seeking to learn how to work with evolving architectures and develop skills in data science.  This specialization is focused at enabling data analysts to work with larger data sets and to help them get closer to their company's data.
Data analysts pull data, summarize it, and build dashboards to help businesses make critical decisions. However, the key to their success lies in having access to that data. Conversely, data scientists generate data that drive insights, predictive modeling, and can perform more advanced data exploration techniques, such as machine learning, to create more useful data. By leveraging data science practices data analysts can fill in the blanks for data they wouldn't normally have.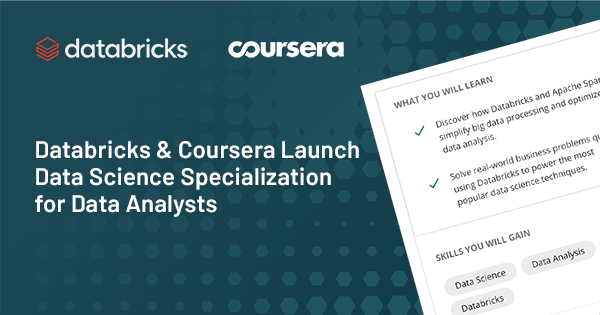 Databricks and Coursera have partnered together to create a specialization targeted at precisely those data analysts who seek to expand their toolbox beyond using spreadsheets and writing SQL to query in data warehouses and relational databases.  This specialization will enable data analysts to leverage existing skills to learn advanced technologies (e.g., Apache Spark and Delta Lake) not traditionally linked to their role. By completing this specialization, an individual with the current job role of a data analyst should have the real-world skills needed to be considered an entry-level data scientist, such as probability and statistics, machine learning, and programming with Python.  Developing these skills will put individuals in a position to work with larger and more complex data sets of the future.
The specialization consists of approximately thirty hours of training across three courses.  It starts with Apache Spark SQL for Data Analysts, which teaches data analysts how to apply their SQL data analysis skills in a Data Lakehouse architecture with Apache Spark and Databricks.  Then follows with Data Science Fundamentals for Data Analysts, which covers data science concepts in an easy to understand manner to ease the transition for data analysts. It concludes with Applied Data Science for Data Analysts, which focuses on projects to put those new data science skills in practice. The first two courses are currently available on coursera.org.  The third course will be available on November 30, 2020.
Each course is available now for all learners to audit. Click the following link below to start your 7-day free trial with Coursera and get started on Data Science with Databricks for Data Analysts.