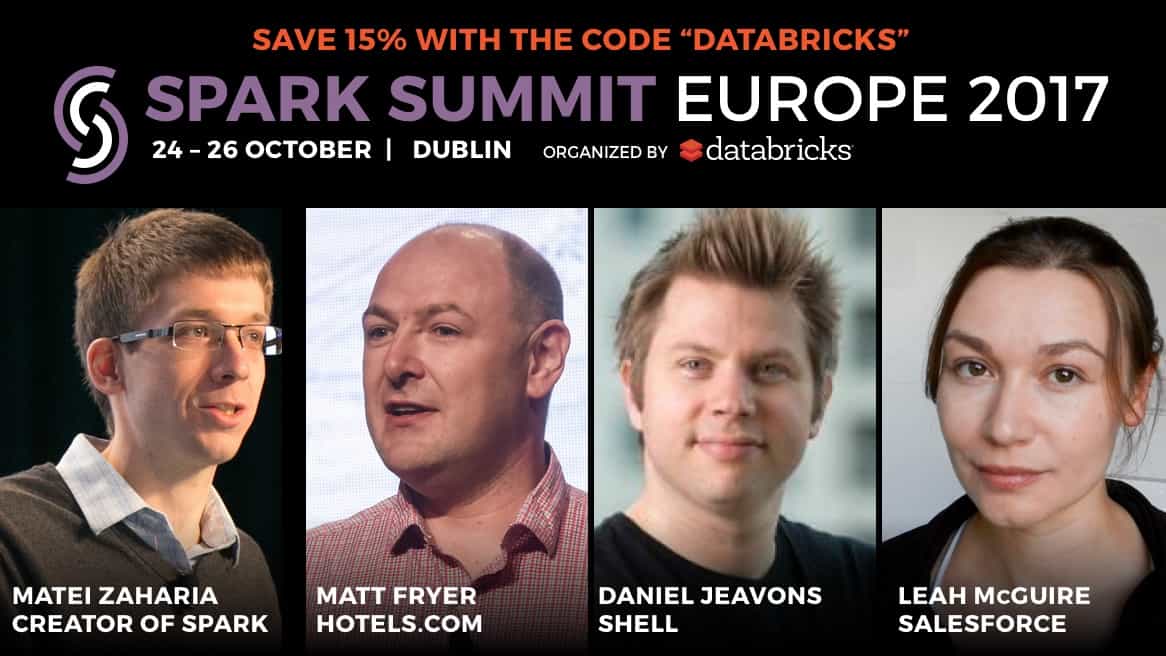 SAVE 15% ON REGISTRATION* WITH CODE "DATABRICKS".
This year's Spark Summit Europe is poised to be the biggest yet and we here at Databricks could not be more excited to be hosting this event. The level of participation and continued growth of the summit is a clear indicator of how critical Apache Spark has become for many organizations all over Europe. Just since 2015 we've seen the number of companies represented at Spark Summit almost double to over 2,100 with more than 6,000 attendees registered which include developers, engineers, data scientists, researchers and business professionals, all there for three days of in-depth learning and networking.
Much of this growth can be attributed to the incredible increase in the number of businesses leveraging Spark and Databricks for advanced analytics to support initiatives in machine learning, AI, and more — rapidly accelerating innovation and allowing these organizations to realize transformative business outcomes.
For anyone involved with Big Data and Data Science in Europe, this summit should be viewed as an incredible opportunity to learn more about Spark from thought leaders in both disciplines. The three-day summit includes a dedicated training day with tracks focused on Data Science with Spark, Tuning best practices, and Deep learning with Keras, Tensorflow, and Spark. You can check out the agenda here and start planning which tracks to attend. The following two days of the conference offer over 100 different sessions and dedicated Developer, Data Science, Enterprise, AI and Streaming tracks. There will be relevant and engaging content for every level and role within the community from beginner to advanced.
The keynote presenters are true innovators in their fields and offer an amazing level of insight into Spark adoption and success at their companies, including:
Hotels.com Chief Data Science Office Matt Fryer will discuss how Databricks has helped Hotels.com use machine learning to not only deliver a more personalized and engaging customer experience, but also enable agile and impactful business decision making.
Daniel Jeavons, General Manager of Advanced Analytics for Shell Research shares how Shell is improving supply chain efficiencies and inventory management globally thanks to Databricks.
Leah McGuire, a data scientist and principal team member from Salesforce, will be speaking on leveraging Spark in the development of platforms to enable the integration of machine learning into Salesforce products.
This is an incredible time to be working with advanced analytics and Databricks is both humbled and proud to be able to host Spark Summit Europe, support the Spark community, and help further the field of data science. We look forward to seeing you at the summit! Use code "DATABRICKS" and save 15% off your registration fee*.
*Promotional codes must be used at the original time of purchase.