At Databricks, we build platforms to enable data teams to solve the world's toughest problems and we couldn't do that without our wonderful Databricks Team. "Teamwork makes the dreamwork" is not only a central function of our product but it is also central to our culture. Learn more about Heather, our VP of Mid Market and Commercial Sales and what gets her excited about coming to work every day!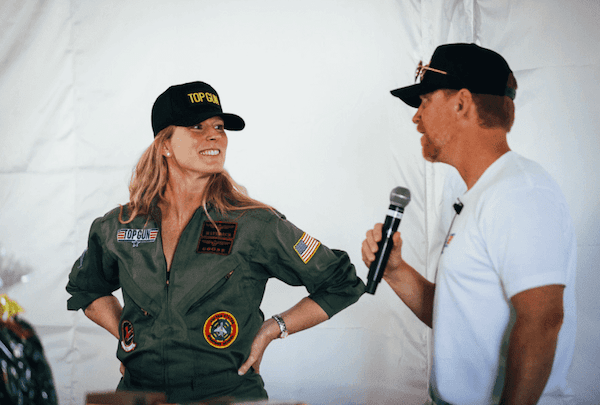 Tell us a little bit about yourself.
Current life motto = work hard, mom hard. I've been in tech sales for 20 years, and have always worked for awesome product and engineering companies. I currently lead Mid Market and Commercial Sales for the Americas at Databricks!
What were you looking for in your next opportunity, and why did you choose Databricks?
There were a few things I was looking for: rapid growth, exceptional executive leadership that I could learn from, and a company where my previous experience in sales with high-growth companies could be applied to help build the organization.
This one surprised me and I didn't realize it until it's become true – that I was looking for a company to make the world a better place. I know it sounds so cheesy but when we see what our customers can do, like Regeneron, who has been using Databricks to improve their drug discovery and development processes – that to me, is inspirational. I didn't realize that was what I was getting into but it's so true – the ability to see these things you can't imagine; be improved.
What gets you excited to come to work every day? 
I'm very goal oriented – whether it's a quarterly goal, helping my AEs achieve their personal goals, or just winning a deal. There's so much opportunity and it doesn't happen without people actually taking initiative and doing things. And I enjoy being one of those people.
One of our core values at Databricks is to be an owner. What is your most memorable experience at Databricks when you owned it? 
As a Sales leader, I own the diversity and impact of my team completely. That means I'm purposeful, set goals for myself, communicate them to the hiring team and to my broader team. You can't expect things to happen if you're not intentional about it. I'm happy to say that my team started off as 15% women, and has increased to about 40%. It's not quite where I want it to be, but we're getting there!
What is one of the biggest challenges you've faced, and what is a lesson you learned from it?
This is from a long time ago, but in terms of my college decision, I had the choice of going to a small liberal arts college, where I would have been the star water polo player vs. going to a bigger, far more challenging school and walking onto the water polo team, where I wasn't the star at all. Choosing to go to the big school and embracing new challenges, allowed me to grow as a person. You're not going to grow as much being a big fish in a small pond, so seek out a bigger pond so you can grow within it.
Databricks has grown tremendously in the last few years. How do you see the future of Databricks evolving and what are you most excited to see us accomplish?
Right now, we're well-known within Data and AI industries but not really known outside of our niche. I'm really looking forward to us being a "household name" and having anyone hear Databricks and know what we do. I'm also excited to see more of what our customer base can do – they astound me with what is possible. Finally, I'm excited to see how our culture evolves as we scale. Our core values like teamwork and being customer and partner obsessed are solid, and those will always stay the same. But I'm excited to see how the manifestation of those values evolve as we grow and add more team members.
What advice would you give to women in tech who are starting their careers?
Look for advocates and people who lift those around them as they rise in their career. In other words, find people who want to bring you up with them. This is different than mentors. Mentorship is teaching someone how to do things. Advocates are people who look out for you, create opportunities for you, and want to help you grow your career, as they grow theirs as well. So find the advocate, as well as the mentor – male or female.
Also, this applies to anyone: work really hard. Push yourself because you will be better, stronger, and prepared for the next position if you are the internal motivator and not driven by external motivators like the approval of others or money.
Want to join Heather's team? Check out our Careers Page.