Education and the pursuit of knowledge are lifelong journeys: they never complete; there is always something new to learn; a new professional certification to add to your credit; a knowledge gap to fill.
Training at Spark + AI Summit, Europe is not only about becoming an Apache Spark expert. Nor is it only about being certified as Databricks Apache Spark developer, albeit both are imperative as part of your professional growth in today's technical and data-centric economy.
It's much more. You come to the summit to sharpen your big data skills—to learn how to build and architect end-to-end data lake pipelines from a myriad data sources; to build, manage, and productionize machine learning models; to explore patterns in big data using data science techniques; to immerse in deep learning frameworks such as TensorFlow and Keras—and how to code in them. All combined with Apache Spark, you go further in training to encompass related disciplines.
Since the early years of the summit, we have seen a sustained interest and increased participation by students in our courses.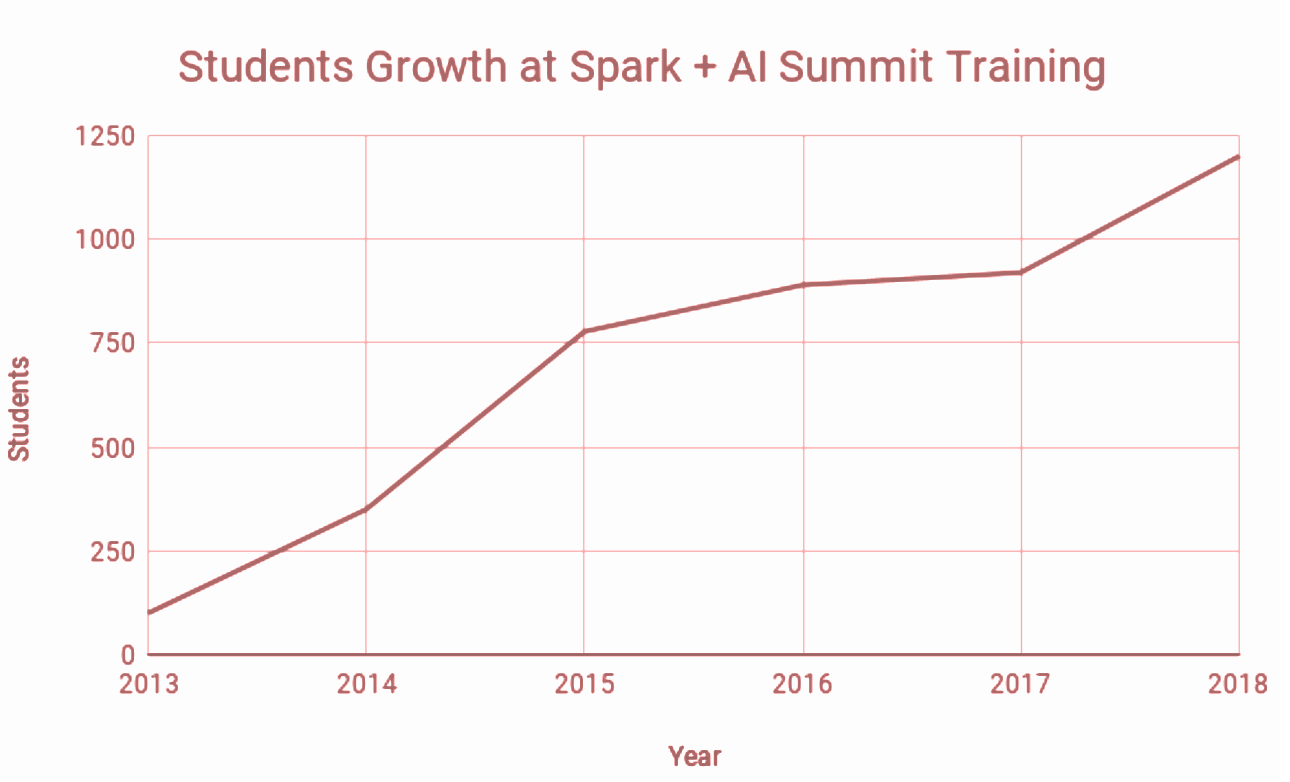 To that end, we continue to offer several all-day training sessions taught by experts in their respective fields and supported by field practitioners as teaching assistants, including a half-day prep session for Databricks Apache Spark Developer Certifications.
Since its launch in early 2018, Databricks Certification has seen rapid growth, and by that year's end, we had certified 266 engineers as Databricks Apache Spark developers. By end August this year, we certified an additional 242 engineers and saw YoY growth of 70%, from last year. With our new Certified Associated Engineer certification introduced this August, we certified an additional 42 applicants.
At the Spark + AI Summit, we are offering half-day preparation and examination course. Do check out other training courses for big data developers—all to extend your knowledge of Apache Spark and beyond. Here are a few training courses to select from:
Read More
Discover why big data professionals with knowledge of Apache Spark and machine learning are in high demand and the five reasons to become an expert.
Read who is giving what keynotes on the state of data and machine learning at Spark + AI Summit.
Find out which developer, technical deep-dives, and tutorials talks to select from at the Spark + AI Summit.
Attend sessions by machine learning practitioners on deep learning, data science, and AI use cases
Peruse the guide to MLflow Talks at the Spark + AI Summit
What's Next
You can also peruse and pick community sessions from the full schedule. If you have not registered for the summit, use Jules20, a 20% discount code.
We hope to see you on Training Day in Amsterdam!