At Databricks, we are passionate about helping data teams solve the world's toughest problems. Databricks helps organizations innovate faster and tackle challenges like treating chronic disease through faster drug discovery, improving energy efficiency, and protecting financial markets. With the help of our sales team, we are able to connect thousands of global customers to Databricks' Unified Data Analytics Platform, and help them with their mission-critical workloads. Learn more from Jules Gsell, Sr. Director of Mid Market Sales, on what the Mid Market Sales team does and how they impact Databricks.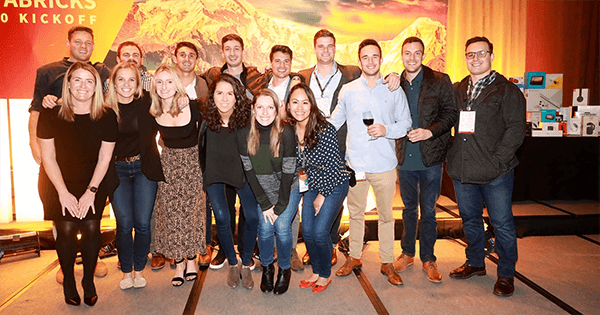 Jules (front row, on the left) with the Mid Market Sales team
Tell us a little bit about yourself and the team you lead.
I lead the Mid Market Sales team for North America at Databricks. The Mid Market Sales team focuses on helping digital native start-ups, many of whom are not yet household names. These customers come from all industries and have incredible missions powered by Databricks.
I've been with Databricks just over 2 years and have been selling or leading sales teams in tech for the last 11 years. When I am not helping our customers solve the world's toughest data problems, I am hanging out with my husband, son, and our golden retriever. My personal interests include running, interior design, and travel.
What were you looking for in your next opportunity, and why did you choose Databricks?
I always knew I wanted to be closer to the product side of the organization and our customer's customer. Helping companies meet their goals when it comes to customer experience and competitive differentiation was a really exciting opportunity. In addition to this, I knew I wanted to go back to an earlier stage company and be able to make an impact on the sales strategy as well as the culture.
I picked Databricks largely because of the leadership team and the direct impact we have on our customers' business. I also knew I would be challenged and grow through the process; I tend to get bored easily, so I am always looking to push my own limits.
What does your day-to-day look like?
I strive to spend as much of my time as possible with my team on customer calls. I would spend 100% of my time on this if I could, as I love hearing from our customers and guiding my team on how to best support our customers. Outside of this, I spend a large amount of my time in one-on-one's with my team, meeting potential candidates and aligning on our strategy with my peers, both internal like Customer Success and external, such as ISV and cloud partners.
At Databricks, we believe that "teamwork makes the dream work". Which teams do you and the Mid Market Sales team collaborate with the most and how do you work together?
We work very closely with our Solution Architecture team in the pre-sales process as they are the experts and key to us demonstrating our value to prospective customers. Being closely aligned with them on our strategy is so instrumental. We also work very closely with post sales and our entire Customer Success organization who ensure our customers know how committed we are to their success and delivering on their mission. We could not do our jobs without either of these teams.
One of our core values at Databricks is to be an owner. What are some of the most memorable moments when the Mid Market Sales Team at Databricks owned it?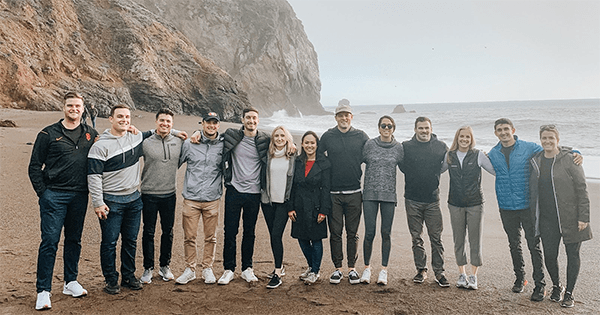 The Mid Market team at a team outing hike in San Francisco
In sales, you own it everyday! I challenge my team to focus on what is in our direct control and hold ourselves accountable to the outcomes we can drive. When we focus on that, it simplifies a lot.
I am particularly proud of our team for driving engagement with our customers. It's one thing when customers start using our platform, it's a much bigger project to drive digital transformation across the organization. Most of our customers are born in the cloud but many of them are still struggling to unify their analytics across their data teams, which live across siloed teams and infrastructure. Once we have the trusted advisor relationship, we can really jump in and help them identify areas that streamline their workflow and help the broader organization be more successful.
Every day presents a growth opportunity. Our customers are some of the most innovative organizations in the world and they are always bringing new ideas and opportunities to us. We have customers who are disrupting the disruptors, from companies improving the life of a truck driver, accelerating drug discovery through genomics research, and disrupting the pay cycle to enable the hourly worker to save money and reduce debt. It is my honor to work with these companies every day and innovate alongside them.
What is some advice you've shared with your team to help them grow in their careers?
In my career, I have learned that there are three things that are very important to your success no matter what your role is in the organization. First, treat everyone with kindness, honesty and respect. This should be a given but I have learned that it cannot be underestimated. You will earn the trust of your customers, peers, leaders and employees and trust is critical to collaboration. Second, learn to be an advocate for yourself and seek out mentorship. I recommend carving out 30 minutes per week with cross-functional peers or leaders to learn about their organization and how you can help and share some of the relevant projects and milestones you are already working on. Third, step out of your comfort zone. Looking back, I have grown the most when I did something I was not entirely comfortable doing yet. It can be nerve wracking but it is important to be challenged and seek out opportunities to do so.
Want to work on the Mid Market Sales team with Jules? Check out our Careers Page.