Meet the Data Team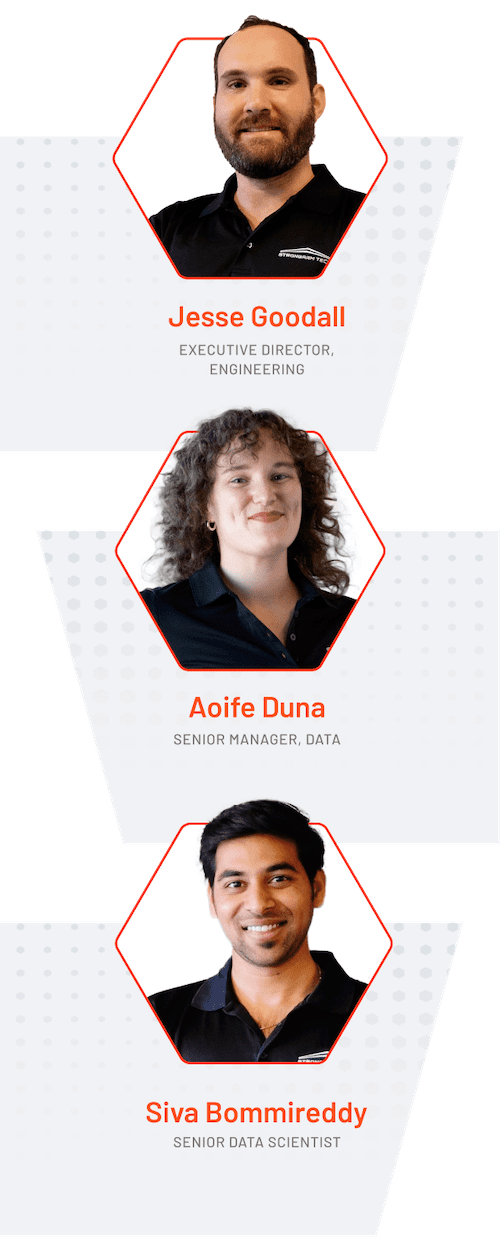 Have you ever received a heavy package and thought you could use some help getting it into your home? Then considered the person who placed it on your porch or loaded it onto the delivery truck? Then realized they did this repetitive motion thousands of times a day?
Industrial workers – the athletes of the working world – have as high a risk of injury as professional athletes, with injuries that also develop over time from repetition. Every time a worker gets injured, it costs an average of $65,000 in medical expenses – plus the cost of lost workdays, training replacements, insurance claims and increased risk of future injuries.


Typically, quantifying workplace risk is a retroactive metric, rather than what we're now able to offer, which is predictive, preventative and proactive.

Setting these industrial athletes up with proprietary IoT wearable devices, StrongArm tracks daily motion and activity as well as the wearer's environment. For context, the motion information StrongArm captures is sampled every 80 milliseconds or 12-and-a-half times a second. If you're into quick math, you might realize that's roughly 1.2 million data points per day, per person.
"StrongArm offers an actionable metric around safety," Aoife said, explaining how they're able to create such an impact. "We offer a quantifiable metric that can be brought to the table in executive-level conversations. Typically, quantifying risk comes in the form of loss calculations after the fact, so it's a retroactive metric, rather than what we offer, which is predictive, preventative and proactive. And we've seen these kinds of cascading improvements on other metrics, including retention reduction in injuries overall and fewer people going home hurt."
The StrongArm Data Team has a very particular mindset: attack the problem, go after what's interesting, be progressive and don't fall in love with your own idea. StrongArm is all about solving problems collaboratively and delivering new features as fast as they can with all hands on deck.
Jesse remembers that getting Databricks changed the speed with which they could go to clients with new insights, which meant making important injury prevention changes sooner. He thought he'd give the team a moment to get up and running with Databricks, but next thing he knew, "We had new stuff coming out. I was like, 'Where is this coming from? This isn't even in production yet!' And it was already production-worthy, going to customers."
It's easy to think of data as objective, but anyone who works in data analysis has preconceived ideas of what patterns they might find. It takes more than one teammate with access to the data and an interest in getting their hands dirty to push for new results. The team needs to be able to look at the data at scale, in one place. When StrongArm came to Databricks, unification and democratization of their data was on their mind exactly for this reason.
Jesse explained how Databricks has powered their dream team and changed the collaboration standard.
"We had developers and data scientists looking at smaller portions of our data in isolation to try to find trends. Now we're able to look across vast data sets with ease, prototype things, collaborate and bring them to production much faster, with fewer errors going from one environment to another."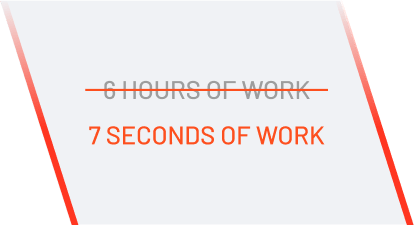 Being part of StrongArm's Data Team means coming up with better and faster solutions on the regular. From a data scientist perspective, Siva no longer wastes full days setting up environments before running an experiment. Not only can Jesse, Siva and Aoife examine the data and call out errors themselves, they can all be in the same notebook at the same time, anywhere in the world, and work on that data together in real time.
Seems straightforward until you consider how data teams have traditionally worked together. A legacy data team process and workflow actually disincentivizes the team toward finding the best solution, as getting valuable input across a team comes at the cost of more bottlenecks.
Data teams across companies share pain points: To ask a question or examine an inconsistency in the data, it might take a business analyst a few conversations with a few different people over a span of a few weeks. By then, the data has changed, and there are new, larger and more complex data sets to analyze. By no fault of their own, legacy data teams work around each other — as individuals — instead of with each other.


Everyone in the company, from the CTO to the client team, says, 'Hey…we never knew you were trying to do temperature analysis, and you're already reporting it to our clients in less than two weeks. It's incredible.' They all know the pains, and they see the quick turnaround and the ease that we are doing things today.

I saw the delight from the client side, adding, "The temperature data was really incredible because we had a concept and were able to experiment with the data and produce something really quickly and get something in front of a client in a matter of days. It was an impressive feat…these are some really sophisticated manufacturing companies…they have data on most of their operations, and we were able to provide a layer of analysis they'd never seen before."
But it's not just the level of analysis StrongArm is proud of. It's the outcome of that analysis – the injury reduction rates, the annual cost savings for their customers, and the reduction in margin of error for evaluating injury risk that has changed lives, and made the StrongArm Data Team the heroes behind it all.