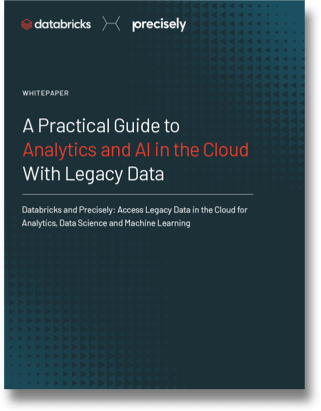 For several consumer facing industries such as financial services and insurance, a large majority of data still resides in legacy systems such as mainframes. In 2019, there was a 55% increase in transaction volume on mainframe environments.
However, data silos, lost mainframe workforce and an inability to use that data for insights makes it challenging for organizations to modernize their analytics journey.
In this guide, we discuss how Databricks and Precisely have partnered to help make it easy and reliable to integrate legacy data into modern cloud data platforms for analytics and AI.
You will learn how to:
Migrate all your legacy data from on-premise data lakes such as Hadoop to the cloud
Break down data silos by improving mainframe accessibility for AI and ML projects across a broad set of users in the enterprise
Capture data changes to legacy systems in real-time to help scale your business
The ebook showcases a customer case study of an insurance company that built its claims data hub for analytics on both new and legacy data with Databricks and Precisely.