Collaborative Notebooks
Quickly access and explore data, find and share new insights, and build models collaboratively, with languages and tools of choice. Learn more about Notebooks.

Optimized ML Environments
One click access to preconfigured ML environments for augmented machine learning with state of the art and popular ML frameworks.
Learn more about ML Runtime.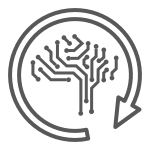 Complete ML Lifecycle
Track and share experiments, reproduce runs, and manage models collaboratively from a central repository, from experimentation to production. Learn more about MLflow.