Databricks Certified Developer:

Apache Spark™ 2.X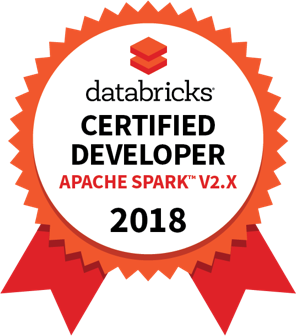 Overview
Databricks' founders started the Spark research project at UC Berkeley, which later became Apache Spark. Databricks works with the open source community to continue to expand the project and make it easily accessible for enterprises and users alike.
Databricks Certification validates your overall knowledge on Apache Spark and assures employers that you are up-to-date with the fast-moving Apache project with significant features and enhancements being rolled out rapidly. The test is approximately 180 minutes with a series of randomly generated questions. The test fee is $300.
Note: This certification is not affiliated with the Apache Software Foundation.
You should be familiar with the following:
•   Spark Basics
•   Spark Streaming
•   Spark Architecture
•   Spark ML
•   Spark Performance and Debugging
•   Spark SQL
•   GraphFrames
•   Programming Languages (Certifications will be offered in Scala or Python)
•   Some experience developing Spark apps in production already
Preparation
INSTRUCTOR-LED TRAINING
Apache Spark Programing (DB 105)
This course gives data engineers and data analysts hands-on experience in big data processing on the Databricks Unified Analytics Platform.
E-LEARNING
Getting Started with Apache Spark SQL
This course is a series of six self-paced lessons plus a final capstone project performing Exploratory Data Analysis Using Spark SQL on Databricks. Each lesson includes exercises.

EBOOK
7 Steps for a Developer to Learn Apache Spark
In this eBook, we offer a step-by-step guide to technical content and related assets that will lead you to learn Apache Spark. Whether you're getting started with Spark or are an accomplished developer, these seven steps will let you explore all aspects of Apache Spark 2.X.
Click the "Create New Account" link in the upper right corner and follow the instructions.
Complete the online form and click save.
Schedule and pay for an exam.