Today, we're pleased to announce that Databricks has been named a Leader in the 2021 Gartner Magic Quadrant for Data Science and Machine Learning Platforms for the second year running. This recognition builds off an already momentous kickstart to the year—including our recent funding round (at a $28B valuation)—and we believe it is a testament to our healthy obsession with building the lakehouse platform: one platform to unify all of your data, analytics, and AI workloads.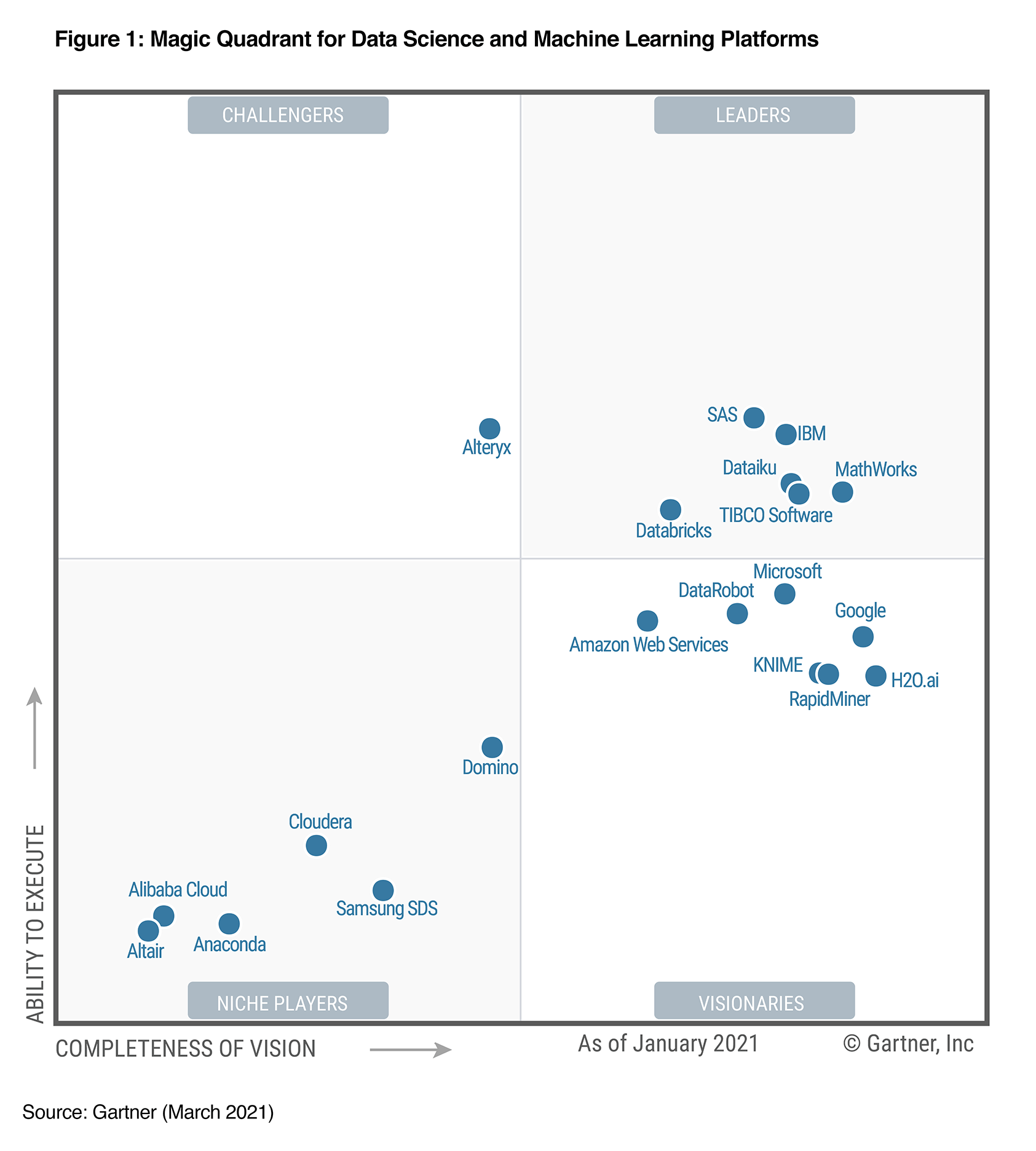 AI is driving innovation and disruption across every industry
Why are we so excited about this? Industry leaders predict that data science and ML will drive trillions of dollars in value across all industries. In a May 2020 Gartner report: Top 10 Trends in Data and Analytics, 2020, analysts predict that "By the end of 2024, 75% of enterprises will shift from piloting to operationalizing AI, driving 5X increase in streaming data and analytics infrastructures."
Databricks' ability to execute and completeness of vision has led to our positioning in two Gartner Magic Quadrant reports: November 2020 Gartner Magic Quadrant for Cloud Database Management Systems (DBMS) andMarch 2021 Gartner Magic Quadrant for Data Science and Machine Learning Platforms.
Databricks Lakehouse platform helps data teams solve the world's toughest problems. Here are just some of the ways customers across industries are leveraging Databricks to level-up their data-driven decision-making and business outcomes:
Shell delivers innovative energy solutions for a cleaner world. Hampered by large volumes of data, Shell chose Databricks to be a foundational component of its Shell.ai platform. Databricks empowers hundreds of Shell's engineers, scientists, and analysts to innovate together as part of their ambition to deliver cleaner energy solutions more rapidly and efficiently.
Comcast unlocks the future of entertainment with AI. Comcast struggled with massive data, fragile data pipelines, and insufficient data science collaboration. With our solutions, including Delta Lake and MLflow, they can create an innovative, unique, and award-winning viewer experience using voice recognition and ML.
Regeneron discovers new treatments with AI. Regeneron's mission is to leverage genomic data to bring new medicines to patients in need. Yet, transforming this data into targeted therapies is challenging. Databricks empowers them to quickly analyze entire genomic data sets to accelerate the discovery of new therapeutics.
A Unified Approach for the Full Data and ML Lifecycle
Today's data leaders must look at the entire data and machine learning landscape when considering new solutions. The 2021 Gartner Magic Quadrant for Data Science and Machine Learning Platforms is based on the rigorous evaluation of 20 vendors for their completeness of vision and ability to execute. We believe here are the three strengths of Databricks:
Collaborative Platform for the Full ML Lifecycle: Databricks empowers data science and machine learning teams with one unified platform to prepare, process data, train models in a self-service manner and manage the full ML lifecycle from experimentation to production. No matter your background, skill set or favorite tools, Databricks makes it easy to collaborate, access the compute power you need, and keep all data science projects in one place – on a managed, secure, and scalable platform.
Open Source Leadership and Rapid Adoption: Open source is in our DNA. We are the original creators of the widely-used data and machine learning open source projects, including MLflow, an open platform to manage the ML lifecycle experimentation: reproducibility, deployment and a central model registry. MLflow is on its way to becoming the defacto standard for managing the ML lifecycle — it currently averages 2.2 million monthly downloads and has over 260 contributions.
Multi-cloud Platform: Databricks is built for multi-cloud enterprises, offering a unified data platform on Microsoft Azure, AWS and Alibaba Cloud. Users can do data science and machine learning without having to learn cloud-specific tools and processes. Oh, and don't just take our word for it. Earlier this month, we raised a $1 billion funding round with the buy-in of the "cloud elite": Amazon, Google, Microsoft and Salesforce.
At Databricks, our ultimate goal is to empower customers to make better, faster use of data with one simple, open platform for analytics, data science, and ML that brings together teams, processes, and technologies. Read the Gartner Magic Quadrant for Data Science and Machine Learning Platforms to learn more.
Sources:
Gartner, Magic Quadrant for Data Science and Machine Learning Platforms, Peter Krensky, Carlie Idoine, Erick Brethenoux, Pieter den Hamer, Farhan Choudhary, Afraz Jaffri,Shubhangi Vashisth, 01 March 2021
Gartner, Magic Quadrant for Cloud Database Management Systems, Donald Feinberg | Merv Adrian, | Rick Greenwald | Adam Ronthal | Henry Cook, 23 November 2020
Gartner, Top 10 Trends in Data and Analytics, 2020, Rita Sallam, Svetlana Sicular, Pieter den Hamer, Austin Kronz, W. Roy Schulte, Erick Brethenoux, Alys Woodward, Stephen Emmott, Ehtisham Zaidi, Donald Feinberg, Mark Beyer, Rick Greenwald, Carlie Idoine, Henry Cook, Guido De Simoni, Eric Hunter, Adam,Ronthal, Bettina Tratz-Ryan, Nick Heudecker, Jim Hare, Lydia Clougherty Jones, 11 May 2020
Disclaimer: Gartner does not endorse any vendor, product or service depicted in its research publications.