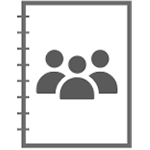 Collaborative Notebooks
Databricks notebooks natively support Python, R, SQL, and Scala so practitioners can work together with the languages and libraries of their choice to discover, visualize and share insights with stakeholders.

Machine Learning Runtime
One-click access to preconfigured ML clusters, powered by a scalable and reliable distribution of the most popular ML frameworks, with built-in AutoML and optimizations for unmatched performance at scale.

Managed
MLflow
Built on top of MLflow – an open source platform from Databricks – Managed MLflow helps manage ML models from experimentation to production, with enterprise security, reliability, and scale.